When I caught up with him to ask about possibly buying one of his ponies for a friend of mine, the pony was already sold and it was only the first day of the show! So, instead I consoled myself with his wonderful story. Cody, who is all of 6 years old, is in a "partnership" with his brother, Chase, who is now 3. He began buying ponies when he was 4. He and his father, Brett Parrish, gather up ponies ten at a time. The ponies are bought privately through the newspaper or advertisements, not at sales. When asked how Cody decided whether the pony was one to purchase or not, he told me that if he could ride the pony bareback with a halter, it is one to buy. Then, Cody's work starts. He begins by grooming all the ponies in the morning, and the riding begins. His training program consists of a lot of time in the saddle with each pony. When asked what he thought the key to his success was, he relied in the most sincere and polite manner, "Hours and hours, miles and miles."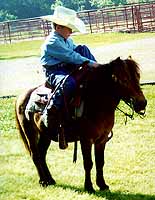 Not only does Cody stay busy with his training business, he plays baseball as well and will show Lopin At Last for the first time at the Tom Powers Futurity in June in the Small Fry Western Pleasure to begin his show career. Cody's parents, Brett and Candy Parrish, own the great Western Pleasure stallion Sweet Talkin Chip, as well as Brett being one of the top Western Pleasure trainers in the country. So you can see, Cody comes by his ability naturally.
As the ponies become more broke, the time nears to sell them. This is where Chase comes in. The ponies have to pass a test before Cody represents the ponies as safe. If Chase, who is only 3 years old, can ride the pony, then it is time to sell. And sell he does! The various ponies travel the show circuit to be marketed and rearely do they haul any home. There is only one pony who is not for sale and that is Cody's first pony named "Bear". Cody has branched out in the business and has taken several ponies in to train for different customers. All of this and he is only 6 years old!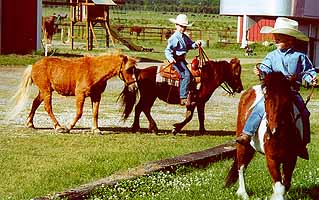 So, if you are at a show and see a gathering of ponies and kids, chances are it will be Cody with another group of ponies to market. Stop and talk to him, his story is amazing. If you are looking for a pony or have any questions, you reach Cody at his home as follows: Cody Parrish · P.O. Box 226 · Pavo, Georgia 31778 · 229-859-2638
November 12th, 2008 | Posted in Articles | 0 Comments