About Cleve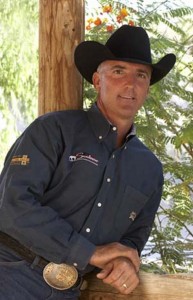 Cleve Wells was born August 11, 1960 in Cleveland, Texas. Later he would move with his family to Lufkin, Texas where he would be raised with his two sisters. In the early days, Cleve was involved with his family in riding roping and cutting horses. The first time Cleve showed a pleasure horse was in 1983 under the guidance of Marty Johnson and Jerry Stanford – the rest they say, is history. Cleve has since trained the only two horses in AQHA history to win all three World titles with three different riders (open, amateur, and youth). Cleve, his wife, and two children (daughter, and son) live in Burleson, TX – where they've lived for over 14 years now.
He has helped 100s of people throughout the world achieve greater success through his Basics of Winning training program, clinics, and private coaching. The truth is you can't argue with success. Hard work, unequaled work ethic, talent, and  determination. But, Cleve is giving back to the industry and giving us a chance to learn from it.
Cleve Wells has trained 21 AQHA World and Reserve World Champions, 26 All American Quarter Horse Congress Champions. He has trained and shown some of the industries most influential stallions such as Zips Chocolate Chip, Radical Rodder, Hotroddin Zippo, and Chips Hot Chocolate. Cleve has also trained and shown some of the pleasure industry's greatest long standing multiple world champion performers Zippos Amblin Easy, One Red Hot Zip, and Mr Magnolia Zip.